Beer & Pizza - Ranger IPA beer tasting @ OneSpeed
Pizza is undoubtedly my favorite food, and I've enjoyed all types over the years, from cheap grocery store frozen cardboard crust to artisan California slow-food masterpieces. It is easy to enjoy pizza when someone else has put in the time and work to experiment and get a recipe right. It's also very easy to throw a frozen disc into the oven these days and get a pretty decent pie. There is much more to pizza, however, than mere passive consumption. I am not new to pizza, but I *am* new to The Art of Pizza.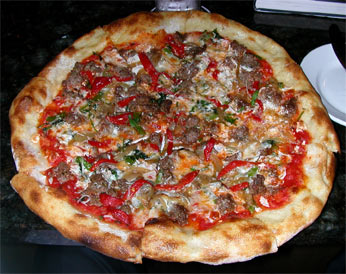 The Art is in the making, and only very recently have I attempted to create pizza from scratch, dough and all. As is the artisan way, the basics are deceptively simple; it's the skill in execution which makes all the difference. My first attempt at pizza dough was an exercise in improvised life support as I worked to compensate for poor planning and to feel my way through the first time. Even though the process was messy, the end result still tasted great, much better than any store-bought pizza.
Much the same can be said of the making of one's own beer from raw ingredients, though I think it can be difficult to exceed the outstanding quality of many commercial craft brewers today. Surely as a homebrewer one can use unique ingredients and come up with personal variations unlike anything one might be able to buy, but the "cost of entry," so to speak, for equipment and supplies to be able to make such beer is significantly higher than that of making great homemade pizza. I have made beer several times before, and thoroughly enjoyed the entire process, but other than the beer I made in college with my roommates, I have always used someone else's brewing equipment.
The title of this segment Beer & Pizza is pretty straightforward and explains in a general way what my articles will be about. I will simply write about great places to go to eat pizza and drink beer, or sometimes just one or the other. There will be more about homemade pizza as I will continue to experiment, and there may even be an article or two on making beer. I am writing in the Northern California region, so I have access to great local produce and ingredients for pizza, many great restaurants, and a good number of fine breweries and brewpubs.
I'm doing the tough work so you don't have to.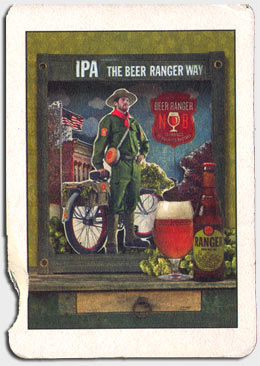 The last week in February I attended a tasting/introduction event for a new brew called Ranger IPA from New Belgium Brewing. The event was held at a local pizza restaurant called OneSpeed Pizza which is quickly becoming known here in Sacramento for its use of fresh, local seasonal ingredients and simple preparation. Other than pizza, the menu items are basically Italian, and the menu is uncluttered with only four big-plate items and a number of appetizers and salads. So far I have only had the pizza. This New Belgium event took place during Sacramento's first "Beer Week," which consisted of tastings, food pairings and presentations at many different venues around the city.
I didn't know what to expect when I went to OneSpeed Pizza the night of the event as I had only seen the flyer for this tasting the last time I was there. The hostess seemed a bit surprised when I said I was there for the Ranger IPA tasting, but I was quickly escorted to a room at the back of the restaurant. It turned out this was some sort of "beer industry" party as most of the people there were marketers, distributors and wholesalers for beer. I felt a little out of place, but the hosts from New Belgium were very friendly. The restaurant even made a special pizza just for the occasion that paired with the new beer. I don't recall everything that was on the pizza, but I remember there being prosciutto and arugula. There were a few other appetizers and some crackers, all very nicely presented.
Then there was the beer. In one corner of the room was a large cooler with two beer tap handles attached, and a large stack of Ranger IPA pint glasses. The New Belgium hosts each talked to me about how this new beer came to be and why it tasted the way it did as I sipped a full pint. As you can tell from the name, this is an IPA-style beer. It has plenty of characteristic hop bitterness and floral and fruit aromas as it is made with three types of hops and then also dry-hopped. I noticed a "fresh-hop" taste (newly harvested and undried) and a hint of pine. It also has a nice slight dryness at the end that is just enough to make you want to take another sip. I picked up a few New Belgium coasters, a sticker and bottle opener, plus I got to keep the pint glass.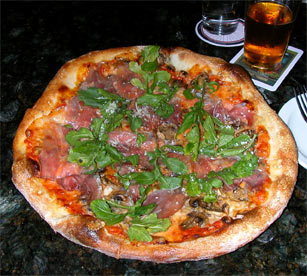 I left the tasting and went straight to the restaurant proper for a full pizza and another beer. Both times I have been to OneSpeed I sat at the bar, and as a testament to the great staff there, the bartender remembered what pizza I had ordered during my last visit (the housemade sausage). This visit I had the mushroom & prosciutto pizza with fresh arugula, fontina cheese and a tomato cream sauce. It was fantastic. Ranger IPA was on tap, but I had a different beer with dinner, a Sierra Nevada Glissade, which I believe is also a fairly new brew. It was a much lighter Spring Bock style, but very good.
This was a great experience, low-key and friendly. Sacramento is in the midst of an "eat local" resurgence which I think is great for all of the restaurants in the area. The city also has a pretty rich beer history, which I look forward to learning more about.
Check out OneSpeed @ www.onespeedpizza.com
--Kevin Howard