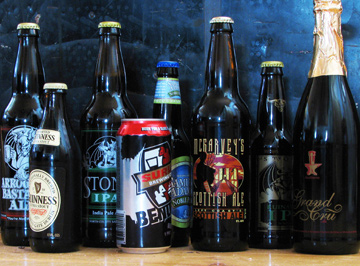 Editor's note about Sam's Notes: Sam is relatively new to great beer, but he got a crash course when he lived in the San Diego area and now he can't go back. Below you'll find some of Sam's ponderings on exploring new tastes and jumpstarting your own fine beer education.
Sam's n00b n0tes

Pick a beer, any beer… No , I'm not asking you to help me out with some cheap parlor trick. But if your favorite liquor store has any variety at all you'll be struggling with the question,"Which beer is for me?"
Personally I find this decision making to be a part of the enjoyment of the entire fine ale process. However, if you are preparing to drop some serious coin on a bottle of some brewery's Belgian Grand Cru, you want to get your money's worth. Right?
Label reading can be its own difficulty because all labels are designed to pull you into spending your cash. But a stylish label tells you very little about the quality of the liquid inside. Would you buy a used car based solely upon an ad that reads, "Cool Car For Sale"? I doubt it. You would insist on details such as mileage, maintenance, etc.. So why not do the same for your brews?
So far I've found that the more the label describes the science of the beer and not just poetic words about flavor or how tough you need to be to drink it, the better chance you have of getting something you'll enjoy. As you peruse the labels ask yourself, "Is the brewer trying to sell me his/her unique creation or as many cute bottles as possible?". A good craft brewer wants you to enjoy his labor of love, unlike the mega-breweries who want you to believe that somehow by partaking of their dull, lifeless concoction you will instantly have an amazing life filled with Italian sports cars and Swedish swimsuit models!
Remember the phrase, "numbers don't lie"... keep that in mind. I look for as many numbers as I can find. Does the label tell you the ABV%, the IBU's, or even the starting gravity? If so, these brewmasters want to help you and educate you to make an informed decision.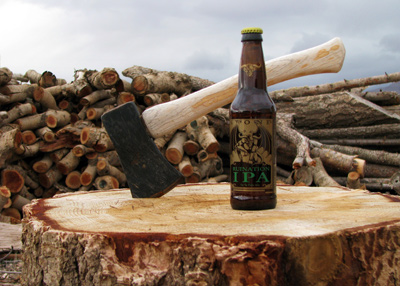 Stone Brewery is an excellent example of this. They tell you exactly what to expect. I recently revisited Stone's Ruination IPA. Their label pulls no punches, even suggesting that you may not enjoy this beer without a conditioned palate.
I've always liked their descriptions…the ale's not bad either.
Here's my re-review of Stone Ruination IPA 7.7%ABV,100+IBU
Pours golden orange, two finger tall head, thin lace. A little chill haze (my fault) cleared up when warmed.
Full hopped aroma, with grapefruit, lemon, and alcohol blending nicely. The taste is obviously hoppy, pleasantly bitter, yet balanced. Mouthfeel is creamy, balanced carbonation, with dry finish.
I was asked not long ago if I liked bitter beer. My answer was negative, but now I revise my statement as I believe my palate has grown, and I'm drinking at better temps also. My new motto is: "Educate before you drink!".
---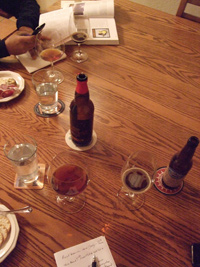 I was recently invited to share in the tasting of a 2004 Avery Brewery's "THE BEAST". As a novice I usually make a simple and generalized comment such as whether I like the taste or not. To reflect and comment on the different flavors and aromas of this beer was a new, enjoyable experience.
This is batch #2 of "THE BEAST" with an alcohol content of 18.1% ABV. Despite the high alc. number I found it to be very smooth with a slightly dry aftertaste. It has a light caramel coloring with a touch of haze, which I'm told is due to the small amount of wheat in it. It has what I would describe as a hidden complexity, yet again not harsh. At first I get the pleasant aroma of dates and toasted almonds seasoned with honey and ginger. These flavors come through gently in the taste as well, sort of a sweet and sour combination. I am impressed with how well the flavors blend, with no one flavor dominating the others. The only disappointment may be that quantities of this bottling of the ale are dwindling.
2010 Sierra Nevada Glissade Golden Bock 6.4 ABV, 42 IBU's.
A nice golden honey color, moderate to small head with little lace. Fair carbonation. A clean, light, citrus/alchohol aroma. Crisp bright taste, slightly bitter, a tiny bit of esters sneek through. Very balanced hop finish. Mouthfeel is also light and bubbly.
I tend not to be a lager fan, however, this is a Bock for an Ale drinker when he wants something a little on the light side.
--Sam Hanssard