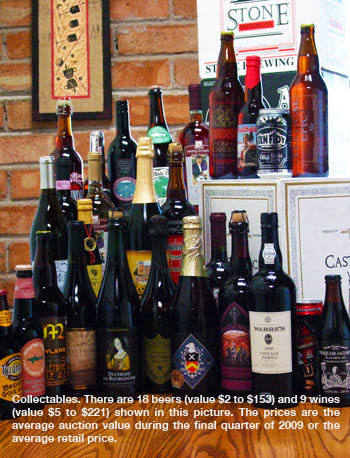 Beer vs. Wine
---
This is a 'reprint' of the 'beer education for wine drinkers' article of the same name in the latest issue of Arizona Vines and Wines magazine. This version contains companion materials including further explanations, links and video at the page bottom.
---
Throw me a Châteauneuf-du-Pape and a couple frosty mugs, because I can't seem to find a beer that goes with lamb. Wait, I just remembered, there's a 3 year old Maredsous 10 in the cellar!
Does that scenario seem familiar? Probably not. But thanks to beer vs. wine dinners, many people are seeing a whole new vista of food pairing opportunities they may never have imagined.
A beer vs. wine dinner is a multi-course gourmet meal during which each course is presented with both a beer and wine pairing. The guests are allowed to vote on whether they preferred the beer or the wine. At the conclusion of the dinner the results are tabulated and winners are announced. There is a winner for each course as well as an overall winner.
Beer vs. wine dinners of this sort have started popping up all over the country, but arguably the most important of these events is the series started in 2007 at El Bizcocho restaurant in San Diego. High profile and well regarded chefs Gavin Kaysen ('07, '08) & Judd Canepari ('09) created a stellar lineup of dishes that the vast majority of wine drinkers would never dream of pairing with beer. A well respected sommelier and the beer world's equivalent* chose pairings for the courses.
To give you an idea of what goes on at these events, here are two of the courses and pairings from the latest menu (beer first, wine second):
Seared Scallop, Kabocha Squash Risotto, Chicken Liver Parfait, Basid Cress and Veal Jus Paired with Stone Pale Ale or 2007 Napa Cellars Mt. Veeder Chardonnay
Crispy Pork Belly, Artichoke Barigoule, Smoked Carrot, Fennel Tomato Jam Paired with AleSmith Grand Cru or 2007 Trinchero Napa Valley Cabernet Franc
So who wins, beer or wine? In 2007 'beer' won three courses and 'wine' won three courses, with beer winning overall. In 2008 each won 3 courses, but wine won with more votes overall. In 2009 beer won the evening, but by only a single vote.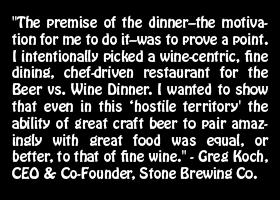 The realization that beer is so capable means one can no longer choose a "light" or "dark" beer. It becomes necessary to understand the nuances of each style and the variations within that style. The great thing about this learning experience is that many high quality beers are the same price or less expensive than a cheap bottle of wine. Also, just as with wine, price does not always equal quality. If you already pair wines with your food, you have a head start on your beer pairings even if you rarely (or never) drink beer. Many of the key qualities in wine that pair well with food are in beer as well, but beer has other qualities that you just can't get from wine. One of these elements is hop bitterness. Bitterness adds a whole new dimension to a fine dining experience and allows for many complimentary and contrasting combinations that aren't available with wine.
If you want to get a solid understanding of basic beer styles from a brewery right here in Arizona, visit Prescott Brewing Company. They have a great range of true-to-style beers that'll get you started on the right foot.
* There is no universally accepted name for a beer "sommelier" (although cicerone is a branded name which is growing in acceptance). The term beer geek is a friendly and somewhat self-deprecating term many use because it gets the point across without seeming pretentious. Personally, I don't think there should be a need for a label. A person should know how to choose an appropriate beer or wine for a meal.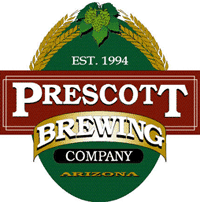 Prescott Brewing Company - PBC seasonal beer style for march: Märzen
Prescott, Arizona - 130 West Gurley Street - Phone: 928.771.2795
A very good brewery that provides a full spectrum of high quality brews. Jan Brown (Head Brewer) knows exactly what he's making. They keep several beers on tap, all very good examples of their respective styles and very well-crafted. What I really like about Prescott Brewing Company is that they have a REAL 'something for everybody' concept. No matter what your beer preference is you can find something very enjoyable there. My favorite seasonal offering is the Raven Maniac Stout, which is a strong beer that's as good as black with a compact medium brown head. Rich, balanced, full bodied and oily with good coffee, alcohol, and burnt notes. This beer would be a great example of Imperial Russian Stout style. Unfortunately this season's offering of Raven Maniac Stout is just about gone at the time I'm writing this, but it's too good not to mention. If you like a more concentrated malt-derived beverage, you will appreciate their Scotch whisky selection. Their menu incorporates some of their beers into the recipes. They also have pizzas that use the spent grain in the crust.
Jan Brown -now in his 11th year brewing at Prescott Brewing Company- told me he never brewed before he started working there. "In a way I wish I had before I did this, but in another way I'm glad I didn't. Because I didn't come in with any preconceived ideas. They just taught me to brew beer."
This is a case of a good student who is a good teacher. If you want to learn, all you need to do is come in, sit down, order a beer, see it, smell it, taste it, think about it. What will it pair with? While you're at PBC you can go ahead and order pizza, but soon you'll be doing so much more!
Beer vs. Wine Notes*
Maredsous is a Belgian Ale brewed by Brouwerij Duvel Moortgat who licenses the name from Maredsous Abbey, a Benedictine monastery.
Maredsous 10 is an orange colored beer with a fruity and spicy profile and a medium to full body. The style is a Tripel which refers to the fact that there is far more malt used in the beer than in a standard or even a dubbel. The greater malt bill will always equal more body or more alcohol and generally both (depending on the brewing methods involved).
Maredsous is available in 3 styles: 10 (as mentioned), 8 (a Dubbel - 8% alcohol), and 6 (a Blonde).
Although Belgian beers are often brewed with spices, often you'll find that a beer with a strong clove & black pepper profile has had no spices added and the spice is actually a phenolic by-product of fermentation temperature and yeast used. Different ingredients will also increase the spice and fruit notes. Clove and banana notes are often most powerful when large amounts of wheat are used in a beer with an old school Belgian yeast strain.
Gavin Kaysen is a very famous chef. If you don't know who he is, Google him. You've probably seen him somewhere.
Judd Canepari is no slouch either, to say the absolute least possible. Follow this link to see one of many favorable reviews: http://www.sdentertainer.com/dining/top-game-chef-judd-canepari-shines-el-bizcocho/
The people who selected the beer and wine have been almost entirely left out of my article, even though they are very important. Therefore, I am providing links and resources for you to follow.
If you want to learn more about these events and the people involved, follow this link to the Stone Brewery blog: http://blog.stonebrew.com/?p=1443
Although beer styles change and many brewers enjoy pushing boundaries, I still think it's important to understand the basic beer styles out there. I think it's great that brewers push beer to new places and I don't like to be bound by tradition, but on the other hand, I would hate to see great beers of the past left behind or lost completely because there are no examples to sample and learn from. What happens when a style is lost? We can't reproduce it with any assurance that it's correct.
Hair of the Dog Brewery -one of my all time favorites- explored this bittersweet process when they wanted to recreate Adam Bier. The result? A beer that was made roughly in the dark strong style you can read about in a book, but it can't be tasted in comparison against the real thing. Hair of the Dog Adam is great, and if that's what Adam Bier tasted like in the mid 1800's, then great! But we'll never know, because nobody has a full recipe and nobody cryogenically froze a sample for the future.
--Thomas Ale Johnson
Beer vs. Wine | A Brief History from Redtail Media on Vimeo.
Beer vs. Wine 2007 | Chef de Cuisine Gavin Kaysen from Redtail Media on Vimeo.
Beer vs. Wine 2008 | Trailer from Redtail Media on Vimeo.