What is a Scenic Brew?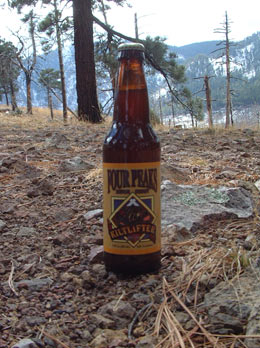 A scenic brew is any brew* that possesses qualities that make it more worthy of scrutiny than your run-of-the-mill quaffing agents. It is often a brew that requires a minimum of a long double-take followed by a hearty eureka (any similar cry of triumphant jubilation is ok).
More often than not, a scenic brew inspires one to travel long distances to witness in person the majesty of its frothy foam-capped head, the rich bounty of its unexplored depths, and the infinite truth that the brew is trying to convey. Camping near a brewery, stalking brewers, and buying very expensive surveillance equipment are all essential to enjoying good beer.
A truly scenic brew takes you on a pleasant journey even when you're in particularly sad surroundings or with intolerably tiresome company. When you are in beautiful surroundings, the presence of a scenic brew amplifies your enjoyment and enhances the view.
At times, a scenic brew must be the best that is available in your sparse geographical location. This type of scenic brew puts a smile back on your face because you know that you're almost out of the desert and have enjoyed better than tolerable refreshment. Your oasis better be pretty nice, though!
A scenic brew will always inspire, motivate, educate and inform.

* A beverage that can be considered brewed. Beer, Tea, Beer, Coffee, Beer, Whisk(e)y, Beer, pretty much anything can be a scenic brew. Of course, it always has to be exceptional. And usually has to be beer. We'll be talking about wine a bit too, even though there's no way to consider wine 'brewed'.
--Thomas Ale Johnson