Spread Spectrum Reviews
---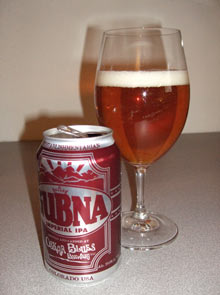 GUBNA beer review 10% Imperial IPA
I know I'm late to the party (I often am these days living as I do in the middle of nowhere), but I'm drinking a can of Oskar Blue's GUBNA. I can honestly say it's the biggest/only I-IPA I've ever had from a can. The beer has a deep golden color, a small heavy head that slowly falls under its own weight and a good malt backbone with some soft caramel and toast for the hops to ride. On the nose it's the big citrus, pine & cat urine notes that I would associate with Chinook, Columbus & Cascade. What makes it interesting is the fact that it's just a single bittering addition of Summit. I would never have thought it was just one hop or just one addition. Sometimes it's good to be wrong. As long as there's something interesting to drink while you're being wrong.
---
Oskar Blues TEN FIDY Imperial Russian Stout 10.5% ABV
Appearance: Nice dense black with a thin brown head that dissipates quickly.
Smell: Rich malt, chocolate, coffee and fruity complexity. It's just so dense and balanced that it's hard to pick much more out.
Taste: As expected with strong chocolate and raisiny fruitiness. Balanced just enough to play hide-and-seek with the alcohol note.
Overall: I'm just so glad to have a big stout of this quality in a can!
---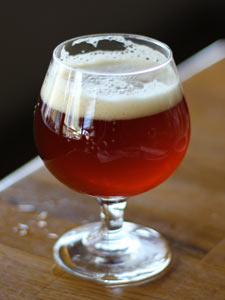 Four Peaks Hopsquatch Barleywine 11.5%? ABV
This version of the beer was not *quite* as good as in the past but still has its merits. As you can clearly see in the photo next to this review, it has an appealing color and a lively head. The keg was just tapped about a half hour before I arrived.
Smell: Malt and hops. A bit stark, but it's the first breath this thing has taken. Still it shows some fruitiness and some citrus and earth.
Taste: Caramel and dirty bitterness, but it's missing the sweetness of past editions. I still enjoyed it, but it didn't bring what I hoped for this time around.
---
Rahr Ugly Pug Black Lager 4.5% ABV Schwarzbier
Appearance: Tan head atop a dark mahogany beer with copper highlights. Head is dense but fragile and falls to a film of very small bubbles in short order leaving some lace around the glass.
Smell: Clean malt and smoke with a lightly floral background and a slight milky smell.
Taste: Less boldness than the nose leads one to expect, but there are many hidden dimensions of toast and caramel that are very enjoyable. There is also a very faint black licorice note in the finish.
Overall: This is a very good example of a Schwarzbier and I can't find anything to complain about with it. But I would love to try the exact same recipe with a slightly higher malt bill.
---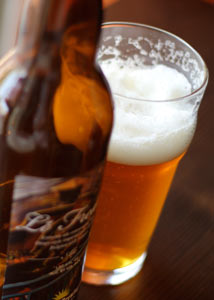 Green Flash Le Freak Belgian IPA 9.2% ABV
Appearance: Hazy light orange with a fluffy white head that sticks around for the long haul.
Smell: It's actually a bit confusing. The hops and esters blend so well that it creates a very different and complex experience. It morphs. There are spices, earth, citrus, malt and lots of other basics you can pick out, but nailing down a description is difficult. Well played Le Freak!
Taste: With light caramel and fruity flavors mingling with bitterness, alcohol, and spice it is still playing games. I stayed with this beer for more than an hour, understanding and losing understanding. I simply haven't had enough hoppy Belgians. Next time I'll get a full analysis.
Overall: This beer makes drinking fun, but work as well. Once it sits in the cellar for a year or two it'll show its colors plain as day. It's just that the hops are at the perfect level to hide the esters.
---
Tyranena Dirty Old Man Imperial Rye Porter ABV?
Thin tan film of a head, inky blackness with dark reddish brown edges. Swirl it a bit and head thickens up and gets much darker but settles and lightens again shortly.
Smell is complex plum, cherry, oak, earth, chocolate, coffee, raisins, and spicy hops.
Taste is big chocolate covered cherries, followed by a wall of dark chocolate followed by coffee that mixes with the hop bitterness at the end as this beer trails off.
There is more complexity to this extremely enjoyable beer, but I'm currently enjoying the beer more by reviewing it less (as I have been doing quite often lately). Would I have known that it was aged in rye whiskey oak? Probably not. A perfect use of the cask in my opinion, added complexity without being overpowered.
Rich and full mouthfeel yet infinitely drinkable. A great beer!
---
Finnegans Irish Amber ABV?
This highly carbonated beer retains a light film on its surface for the duration of the drink. The beer itself is a crystal clear deep gold.
Smell is earthy and malty on par with a light lager with adjuncts notable but not overpowering the rest of the beer.
Taste is simple clean (sweet, bitter, earth) and refreshing but nothing to write home about. I guess it is enough to write a review of though.
Overall, light, simple and refreshing as a lawnmower beer. Not capable of standing up to any real food or other beers. Even lighter and less complex than most amber ales.
---
Tyranena Stone Tepee Pale Ale 5.75% ABV
Dark gold to medium copper color with a dense cloud-like slightly off-white 1 finger head that lasts a long time slowly fading to a 1/8 inch film. Good carbonation and very clear with bits of yeast tumbling around and clinging to the glass.
Smell is a perfectly balanced duet of hop and malt with both taking center stage alternately. Caramel, Orange, Bread & Butter, Floral & Spice notes.
Taste adds a soft sweetness that brings everything together with a strong nutty, woody taste and ending with a refreshingly dry hop bitterness.
Medium bodied beer but a bit tricky as it finishes feeling so much lighter than it starts. A great item and I'm glad I picked it up. It is exceedingly drinkable to the point that I could probably survive on this beer alone - and like it.
Overall, it's a beer you can ponder or drink without thinking and still thoroughly enjoy.
---
Lost Abbey Lost & Found Abbey Ale 8% ABV
Dark brown/copper color beer with a fragile looking head that actually sticks around a very long time *eventually* settling to a ring and a cloud.
Smell is herbal, fruity, earthy, smoky, winey -- but not extremely so yet, caramel, grape skins, onions, banana peels, cloves & cinnamon, and all sorts of other stuff, but it's time to move on in this review.
Taste is meaty (specifically slow cooked asian five spice pork -- well, maybe not exactly but it shares some real similarities and accompanied it perfectly), pepper comes forward, caramelized onions, fresh bread, the fruitiness is big with ripe and overripe plums, pears, mangos, rotten oranges and beef steak juice (I know that's not a fruit, but it is a juice).
The lightness of this beer makes you expect less and I could see how it might pass you by if you drink it cold. I had this at about 50 degrees which was just the right place to start. Now I'm finishing it up at about 66 degrees. Medium/Light bodied and very drinkable. I know I said some things that might turn some off this beer, but that just leaves more for me!
I need to grab a few bottles and let them sit for 3 to 6 years, then this will be perfect when it really shows up its wine-like qualities.
---
Green Flash Trippel 9.7% ABV
Light (and crystal clear if you don't stir up the yeast) amber/gold color with a bright fluffy white head that settles to a ring rather quickly leaving lace.
Nose is toasty, malty, spicy, with smoke and burned plastic bandages (I don't mean that in a bad way, the esters are very complex, complex enough to make these notes an enjoyable part of the whole).
Taste is unified, toast, dough and spice (clove along with white and black peppercorn banana note not as evident, more of a chalky banana peel) blend with apples, pears, oranges and raw flour. Raisins show up later. Alcohol makes everything blossom if you drink deep.
Complex light feeling and refreshing at first, when carbonation dies down richness comes through in this medium bodied beer. Good stuff.
Extra note -- Yeast as a chaser: strong dried hop, lime, grapefruit, wheat grass and sea salt character on the nose with a yeasty, chalky, vitamin c and soggy bread crust taste.
---
Dogfish Head Palo Santo Marron 12% ABV
Color is black in the center then a range of brown to copper then bronze on the edges. The refraction of light is very winelike. The head is dark tan and fades to a thin film after a short while in the glass.
There is quite a bit happening on the nose. Brown sugar, chocolate, coffee, root beer, ginger, eucalyptus and chicory (which is odd because I doubt they put any chicory in here). Alot of what I don't understand in here, I'm chalking up to the palo santo wood, but not sure if that's correct. Regardless, this is a very interesting beer.
Taste is singular and complex, with a lot more going on than even the nose would suggest. Confusing but not overbearing. It has the profile of a classic Old Ale due to the high amount of added dark sugars, but the herbal/woody flavors shift the whole thing just to the left of that. I highly recommend it, but even though this is my second tasting, I haven't quite got a handle on this. I should have bought more. The remaining two will be fun to age.
---
Allagash Grand Cru 7.2% ABV
Orange/copper beer with a fluffy white head that drops over time leaving quite a bit of lace behind.
Smell is a perfectly balanced citrus, toast, dough and caramel with layers of spice all around.
Taste is very much the same. This is another example of me enjoying the beer too much to actually spend time reviewing it correctly. Sorry about that, but that also is an indication of how good the beer is, so hopefully it is of benefit to you.
Yet again, Allagash has thought this beer through and made a Belgian that you never would suspect was American. Very enjoyable
---
Lost Abbey Red Barn Ale Saison 6.7% ABV
Color is murky light orange/golden color with a fluffy white head that settles to about 1/8 inch over time. Carbonation is medium.
Smell is at first strong banana and clove but eventually gives way to citrus and more spice. Apples and pears eventually show up as well. Green hop aromas show up as minor players. Yeast and light vinyl phenols (smoky bandaid and wool) show up deep in the background and only enhance the foreground spice, flowers and fruit. Eventually a malty sweetness struggles out of the din, followed by a distant soft toasty note.
Fruits including oranges, lemon, apples, pears, pineapples, and even green grapes and mango are vibrant beneath a blanket of spices including cloves, nutmeg and cinnamon up front. The spice is complex and wonderful as you drink deeper, ranging from one pepper to another, it tastes of black pepper, but I know there is alligator pepper here as well and can taste it jumping on the very back of my tongue. Although green hops mingle with every sip, there is a hoppy bitter end to this journey that combines with a under-ripe mango note that is disturbingly fascinating.
Overall: I have been waiting to try this beer for a long time and the result of my quest does not disappoint. The brew is medium bodied, robust, complex and infinitely drinkable. I say this after drinking this 750ml bottle on my own over the course of a few hours. I'm almost finished with the beer as I write this, and I definitely want more. But there is no more, and I'll have to settle for a glass of water and dreams of visiting the little old STONE brewery (now Lost Abbey) again one day but seeing everything as new. Drinking it from the Affligem Chalice my younger brother gave me. He gave me the beer as well.
---
Russian River Damnation 7.75% ABV
Color is medium/light gold, clear with slight cloudiness (seemingly just from yeast due to too much movement. High carbonation at first and a fluffy white head that lasts and lasts.
Nose is full of floral, herbal, citrus, spice and sweeter apple and pear notes. There is so much going on here that it is too much work to sort it all out. I just want to enjoy it.
Taste is at first sweet, then balances to a spicy/fruity middle, depending on what you're having with it (sweet foods) it could really clamp down toward the finish. It has some serious hop bitterness at the end that won't fully express itself unless you are eating the right (or wrong) thing.
Overall: Medium bodied beer that is way too complex to be this drinkable. This beer is dry but the hops really amplify that dryness. But I didn't notice anything bad about these hops, this was super clean all the way around. It has a great fresh hop character as well. I could have said much more about this beer if I wasn't enjoying it so much. They must have used a Saison yeast for this, but it covers a range far broader than Duvel to Dupont to Symposium, I loved 2004 Symposium, but this is far better in my book. Enjoy!
---
Stone Sublimely Self-Righteous Ale 8.75% ABV
Color is dark mahogany red with a light brown head that drops to a stable 5mm thick film and leaves a lot of lace.
Smell is malt and hops, along the lines of the chocolate, coffee, caramel that you would expect from this density of color, but with a light molasses, fresh bread dough, cherry and what seem to be slight Belgian or wild yeast esters. The hops are rich and spread across the spectrum of the corresponding sweet notes. There are floral, earthy, leafy and spicy hop notes everywhere.
Taste is far more balanced than one would expect, with malt notes matching every punch of bitterness. Overripe fruits and rich dark chocolate notes dominate the profile, but citrus, rootbeer/ginger, cinnamon, clove, leather and chalk show up as well. Citrus leaves, zest and even fresh cut grass are here in force.
Overall: Full bodied with strong bitterness, yet fully balanced (as an IPA). Good, strong carbonation, just enough to savor for a long time and keep the beer moving. Just awesome. This is the third time I've had one of these and felt it was ready for my review. But there is even more in here. I like this beer even more because without knowing that Stone was creating theirs, I made my own Dark Double IPA at exactly the same time. I guess, since my mind was on the style it made me appreciate the effort more. It's great, think about it.
--Thomas Ale Johnson