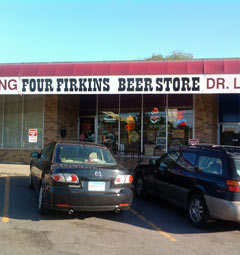 500 Square Feet of Heaven
A conversation with Jason Alvey
Proprietor of the Four Firkins.

When I first heard about Four Firkins I didn't believe it was true. A purely craft beer store was going to open in St. Louis Park, Minnesota -- a working to middle class suburb of Minneapolis. Naturally, I had my doubts. Could something that good and pure survive in an area that was ruled by the big three producers of watered down, cold filtered urea?

By "a craft beer store" I mean just that ... there are no enormous stacks of any of the American pseudo lagers and pilsners at the Four Firkins. There aren't even any cans or bottles of said swill in sight. That is what fascinated me about this place and made me want to tell our readers about it. This store is not just surviving but flourishing while doing something that most people would tell you is impossible. If you have ever talked seriously about opening a specialty beer or liquor store, even a bar for that matter, you will be told repeatedly that it won't survive if you don't carry something from the big conglomerates. That is something I could never accept and something that Alvey and company are proving to be false. I recently got to have a sit down with the owner (everyone just calls him Alvey) to find out what makes the Four Firkins tick.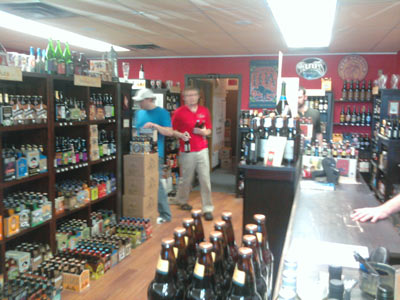 The Four Firkins owner and staff are friendly, approachable, and knowledgeable, and they believe in the craft beer industry. It's nice when your job is also your hobby and the guys at this shop will always go that extra mile to help you find something that will please your palate. They also carry a fair amount of glassware to help you get the most enjoyment out of your brew. I know when I started venturing into the wonderful world of craft beer, I wish I would have had my own sherpa. These guys will get you over that mountain.

The first thing you see when you enter the Four Firkins is good beer and the last thing you see when you leave is good beer. The store is on the small side, only around five hundred square feet but no space is wasted on bulky signage or monstrous displays. It all goes to the beer, which is plentiful. They actually try to have 700+ beers on hand at any given time. That is an amazing feat when you consider that they don't carry the major domestic brands. There is also a focus on rotation of seasonal stock at the Firkins, unlike many stores that just don't feel it is important. Alvey put it this way…

"Due to our incredibly high beer turnover, seasonal beers don't sit on the shelves for very long here. I know other stores that will have Hopslam (January release) sitting around until November. Because of this some people think Hopslam is a year round beer! Here at the Firkins, seasonals are just that, they are gone in a few weeks and our customers are becoming increasingly aware of this. Now, when they venture elsewhere and see seasonals months after the release date they know it's old beer."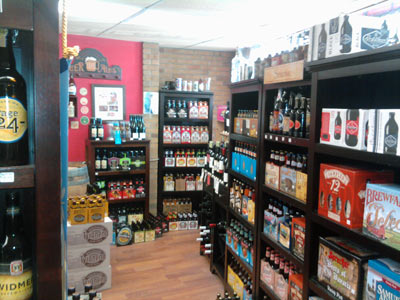 When you venture into the business world you always hope to make some cash out of the deal, but it takes a subtle lack of good old American money lust to not pimp your wares to the lowest common denominator. A place like the Firkins is built on loyalty to and from a customer base that appreciates what it is trying to do. "I have these customers from Iowa that pool their money together and drive up once a month to buy from me", Alvey said, after a question about the loyalty of his clientele. "People see what the store is about and don't mind driving a few miles out of their way to buy here." It is just such customer loyalty that builds and sustains a shop like this. I had heard many people before say that a store like the Firkins would have to overprice the beer to stay above water. This is not so. In fact, they are actually very fairly priced. Once again in Alvey's words…

"With regard to our pricing, we price the beer for what it's worth. We don't discount the crap out of it for no reason at all. We don't like to devalue the beer like that. By the same token we don't gouge when we get rare special release beers either. We sell it for a fair price which in turn helps brewers justify charging a fair price at the wholesale level. We are here to support the industry. We love the people who brew the beer and we want to try and make their lives easier, not harder."

Alvey and his crew are very supportive of the craft beer industry and their actions reflect that. Many stores will try to lower the price of their craft beers in order to get customers. That can devalue the beer on the whole, which could force the distributor to lower his prices making it no longer worth the effort to carry that particular beer. "I'm not against competition", Alvey told me, "I wish more stores around town would use our tactics because they would sell more beers and there would be more craft beer customers for all of us." One of my favorite things about the craft beer industry is the unselfishness of it all. Craft beer lovers don't tend to fight for massive market shares to beat out their rivals. Instead, they try and share the love, as it were. This is evident by the collaborations we have been seeing more of recently. Stone, Dogfish Head, Victory, Nøgne Ø, 21st Amendment, Boulevard and BrewDog (to name just a few) have been collaborating with different breweries to bring various viewpoints and techniques together to create something new and wonderful. In the same way, the folks at the Four Firkins work with local brewers and distribution companies to bring their customers a different kind of beer experience. Special guest speakers will also sometimes make appearances at the store. The shop does just about everything you can think of to show you the way to a better brew experience.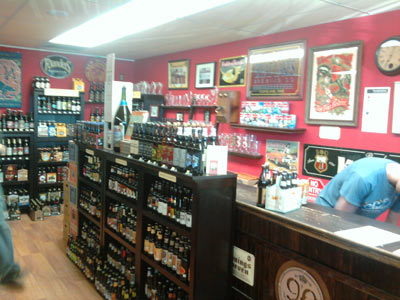 Alvey summed up beer as a non-elitist drink that is more about friendship than getting squiffy and falling off your barstool. "If you say, let's go get a beer together, it is like saying, hey I dig your scene and I want to get to know a bit more about you." That sentence kind of sums up what craft beer people are all about: the camaraderie between beer geeks and the respect we have for the craftsmanship that brings the beer to our lips.

The reason I wrote this article was to tell people out there that are thinking about opening a specialty store or bar that it is possible and it can survive. You just have to put the love behind it and you will get the love back from it. Alvey and crew are doing it now and looking to expand in an economy that is crushing many other businesses. The big guys will always have their 40-foot ads at the ball game or have commercials that make the Super Bowl last way too long. The mind-numbing name repetition will always be forced into your life as they try to hypnotize you into the false belief that they are your only beer choices, which they are most definitely not. So, as long as the world has people like the crew at the Four Firkins, you will have a choice.
--Joe Bjorklund