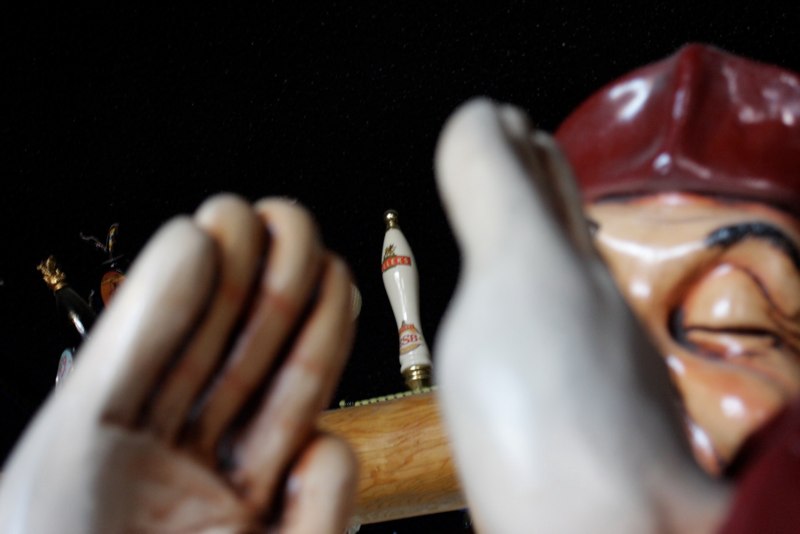 Man of the Kloth
Short intro, followed by Q&A with Ron Kloth
Proprietor of Papago Brewing
One of the first things you'll notice when you enter Papago Brewing is a large monk statue. Once you're in there you'll notice more. Of course even the Papago Brewing logo is a Monk drinking from a large glass mug. To anyone who knows about great beers, these aren't specifically religious symbols. They are more like signs that we can have faith that there is great beer at the location. The fact is that many of the great brewers of times past were such men of the cloth, and some of my favorite beers are brewed in the styles of these old Abbey & Trappist Ales. I've never bothered to do the research necessary to find out what specific religions these old monks belonged to, however, I know that some created rich "liquid bread" for times of fasting. So however devout they were in the the religions they professed, they were certainly religious about their 'fasting' regimen. Excuse me, I need to fast for a moment... That was delicious!
To meander closer to the point. I was testing the limits of my self-denial at Papago Brewing one evening recently - observing a very strict fast during which I allowed myself absolutely no nourishment besides beer and pizza - when I had an epiphany! But just then Ron walked up to my table and I forgot about my revelation and was more concerned with any interesting general information I could grab. That's just how I roll.
Q: Ron, how much Oude Zuipers do you have in bottles & how often do you get the bottled version?
A: There is more Oude Zuipers in bottles. Our distributor World Class has about 125 cases left in stock, I believe. We have only bottled it once and it was a rather large batch, but we will do it again possibly later this year but in smaller 12 oz bottles (being 11% people really need to share it rather than be able to drink one by themselves).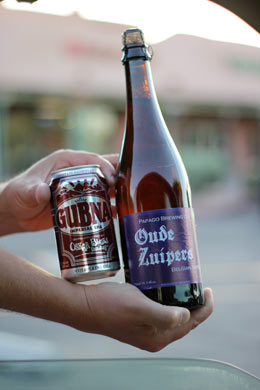 Q: Is Oude Zuipers a Papago recipe or is it a pre-existing Van Steenberge recipe that's bottled for you, or something else?
A: Well, it was created one night while I was out with Jeff from Van Steenberge in Belgium, I told him I wanted a big beer and he suggested we use a tweaked version of Gulden Draak, it is basically Gulden Draak without the caramel malt with a little bit more base malt added to bump up the alcohol a tad.
Q: During June/July/August, will you have any special seasonal beers or any important events at your location?
A: I'll be cutting it down to fit the space available anyway. By then we should have our expansion done, that will add another 1500 sq ft to our space for additional seating and shuffleboard. About that time we will also be coming out with our Great American Beer Fest Pro-Am beer, The Pro-Am is where a brewery picks an award winning homebrew from a local homebrewer and has it brewed up commercially to be entered in the GABF in Denver. We will be picking a winning beer in early May. Also, by the time the article comes out we should be bottling and distributing our Orange Blossom Wheat beer throughout the state.
Q: Do you actually assist with the brewing of your recipes at SunUp or Oak Creek? Or is it more a matter of handing off the recipe?
A: I brew and develop the recipes at home and hand it off to them to reproduce it, then I am involved in tweaking the beers to get to the taste I want.
Q: Do you make the pilot versions of your beers?
A: Yes, I have a pretty nice homebrew system at home and about 2000 lbs of grain so I can produce pretty much any style of beer I want at any time.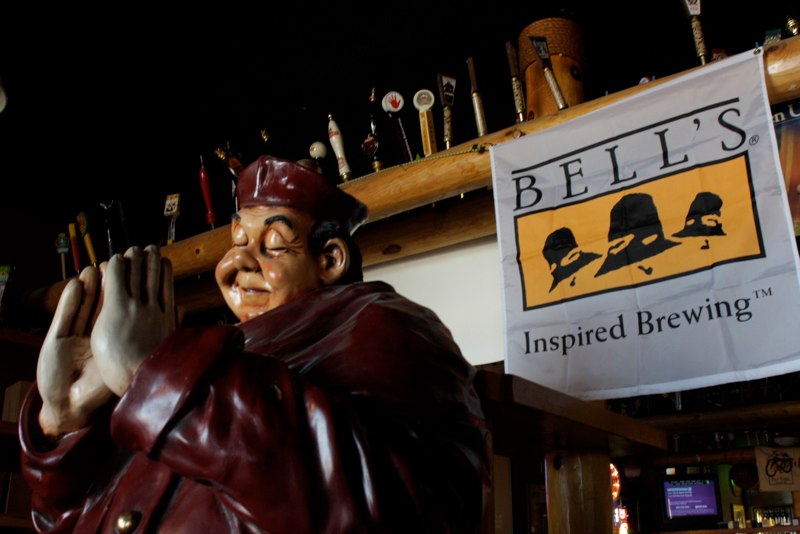 Q: How long have you been brewing and running this business?
A: Believe it or not I started back in the 1960's when I was just a kid in elementary school who was into science and experimenting with stuff. Then in college I made a few batches but didn't seriously get into it until 1990. I took a class on brewing that really jump-started me in 1991. We've been open since 2001.
Q: What is your favorite beer for long term aging and why?
A: I love aging a number of beers such as Belgian Lambics and Trappist Ales. I have a couple of bottles that are over 40 years old that I plan on drinking when they turn 50.
Q: Is there anything else you think we should know?
A: We love beer at Papago. One thing that you might mention is Ratebeer.com has us rated as the 13th best place to drink beer in the world, and yet there are people in Arizona that don't even know about us because we don't advertise.
Q: That's cool about the 40 year old beers! (I have a lot of 7 year olds, but not much older than that.) Do you know, offhand, what they are? Brewery/Vintage/Etc?
A: Yes, I have a 1969-71 Westmalle Tripel and a Westmalle Dubbel. They began putting dates on their bottles in 1972 and these are before that. A Belgian bottle expert who looked at them said he thought they were from 1969-71. I also have some 20-30 year old other Belgian beers of various styles. There is a small out of the way place in Belgium that sells them to me when I am over there that very few people know about.
If that's not enough, Ron Kloth and Papago are featured in the article Cellaring Beer in this issue.
--Thomas Ale Johnson (Photos by Tom Granberg)