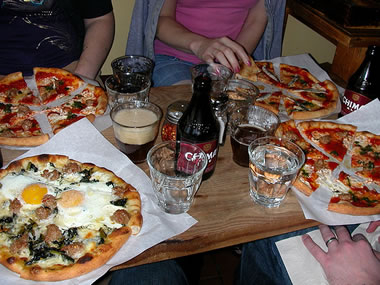 Pizza in San Francisco
My favorite pizza place in San Francisco is Pizzetta 2111. Disclaimer here--two of my friends are part owners in this place, so I'm not entirely unbiased, but I know great pizza when I eat it. Sunset Magazine agreed with me this year also 2, so I'm not the only one.
The menu is uncluttered and changes every week depending on what is fresh, in season and what they want to make. That doesn't mean the food is unpredictable, but it does mean you will find delicious variations of already great food. As you might suspect, the main offering here is pizzas, though calzones, salads, starters and desserts are also on the menu.
The basic margherita style of pizza is delicious here, and that is really the true test of quality for any pizza parlour. Tomato sauce, mozzarella cheese and basil is a great combination. My favorite pizza at Pizzetta is anything they make with their housemade sausage. The most filling pie they make is one with two farm eggs cracked right on top. The eggs with housemade sausage and seasonal greens plus garlic confit is unbeatable for a late brunch.
I had possibly the best sausage I have ever tasted on my most recent visit. It was bacon sausage. That's right: bacon. In the sausage. It was remarkably delectable.
The beer selection is small, but what they have goes great with the food. The best choice is the Chimay Red, but the Anderson Valley Boont Amber Ale is also good. The restaurant itself is small, but cozy, and you can sit outside if you want to. You are never far from the kitchen and the owner/head chef is often the one taking your order and bringing you your food.
One kind of fun thing, not related to the food, is to visit the water closet. Yes, it is labeled "WC." I don't want to give it away, but there is something quirky and cool to watch while there--a sort of miniature silent movie theatre.
--Kevin Howard

[1] http://www.pizzetta211.com/
[2] http://www.sunset.com/food-wine/techniques/pizza-00400000063254/