Whiskies of the World Expo
Where to begin? I had never been to a whisky tasting before this event. This was the Whiskies of the World Expo 1 and took place on March 27 at The Hotel Nikko in San Francisco, California and was pretty major, with thousands of people going through the exhibit hall and other events over the course of the evening. A couple of my fellow whisky enthusiasts who live in San Francisco went with me to see what we could taste, see, and experience.
The event began with a rousing Scottish pipe band procession through the entry area and exhibition hall. Drums and bagpipes made for a proper opening indeed.
Exhibition hall
The exhibition hall was where the tastings occurred. The many distillers filled tables lining the edges and dividing the middle of a large conference room. Scotch whisky was the most represented, but there were Irish whiskeys, Japanese whiskies and American craft and mainstream whiskeys. There were also a couple of beers, a few gins and a tequila and rum or two.
Despite the crowds, I was able to taste a good number of whiskies. The only problem with tasting so many is that individual whiskies become lost in a fog of peat, smoke and medicinal mintiness. Detailed notes would be required at a tasting like this in order to remember one's impressions. A decent amount of pre-planning regarding flavor profiles is also advisable, paying attention to a proper progression from the lighter-bodied whiskies to the more complex, smoky and peaty beasts so as not to destroy one's palate too early.
Probably the best tasting experience I had in the exhibition hall was with the representative from Ardbeg. He would speak with small groups of three to four people at a time and take them through tasting each of the three whiskies he had available, progressing from the lightest 10-year-old bottle through the peatiest Ardbeg Uigeadail. The Ardbeg and Glenmorangie tables were right next to each other, and in between the two the Ardbeg representative had put together a collection of 16 examples of individual flavor profiles in small glasses to help give people an idea of what flavors to look for in the various spirits.
I think my favorite whisky of the night was Caledonia from Edradour distillery, the smallest in Scotland. There was a lot going on, with some spicy, minty and creamy notes, but it all came together into a nice, pleasurable finish which was quite memorable.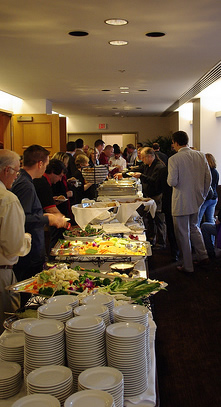 The Food
A buffet was available with plenty to eat, which was a smart decision on the part of the event planners. With the number of tastings limited only by time and the crowds, it would be easy to overdo it if one did not take any breaks for food. Eating also seemed to help reset my palate for further tastings. There was fairly limited seating, however, so most people stood in the buffet room, juggling their goody bags with various literature and plates full of food. The food was good, ranging from salad and finger foods to more substantial meat and pasta.
Educational Seminars
In addition to the tastings in the exhibition hall, there were a number of educational seminars offered that were extremely interesting. I went to two seminars, but there were seven total, ranging in topics from a discussion about the history, production process and flavor profiles of whisky led by a Senior Master whisky expert to a presentation on the renaissance of American moonshine.
The first, and most entertaining seminar I went to was one led by Simon Brooking, the Global Brand Ambassador of the Laphroaig distillery. He was dressed in a full Scottish kilt and jacket and throughout the seminar he sang traditional songs, led us in traditional toasts, and told a few slightly off-color and hilarious jokes. He gave a passionate presentation and was very knowledgeable about the history of the Laphroaig distillery and of whisky in general. He led us through a tasting of four different Scotch whiskies beginning with an Ardmore Traditional, then an Ardmore 30 year old, a Laphroaig 18 year old and finally a Laphroaig 25 year old. It was quite clear how the longer-aged whiskies smoothed out and became more complex than the younger whiskies.
| | |
| --- | --- |
| | |
Mr. Brooking also showed us how to properly "nose" a whisky (breathe in through both your nose and mouth) and how to add a bit of water to open up more flavors while keeping the rest of your Scotch "neat" (take a sip of water first and hold it in your mouth before sipping the whisky, then hold). He also showed us what whisky smelled like (we did not taste it!) if it had gone bad in the barrel due to bacterial contamination. The smell was closest to sweaty socks, definitely very sour.
The second seminar I attended was a panel discussion of the revival of craft distilling in the United States. Craft distilling is typically done by smaller, independent distillers who use traditional methods or ingredients that may not be cost effective for larger distilleries to implement.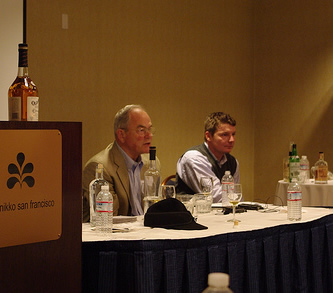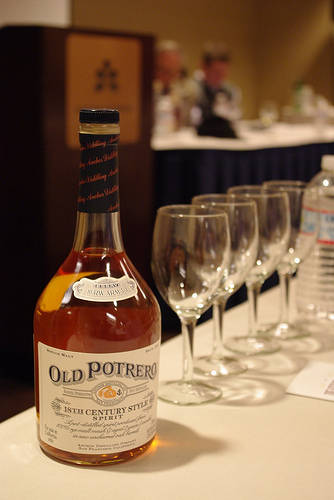 The most prominent panelist was Mr. Fritz Maytag, the now former owner of Anchor Brewing and Distilling. He discussed a brief history of how he came to own and run Anchor and also talked about his role in the revival of craft distilling. He talked about how the company thought there was a huge potential for craft distilling when Anchor began doing it in the early 1990's, and was surprised when more companies did not jump into the market right away after Anchor began producing its single malt rye whiskey.
I found the story of Ralph Erenzo, a partner in Tuthilltown Spirits, and how he worked to start that distillery, fascinating. The distillery is located in New York state, and Mr. Erenzo worked to help pass laws there which now allow farms in the state to operate distilleries and sell their product. Scott Bush of Templeton Rye and Brian Ellison of Death's Door Spirits had equally interesting stories and obvious passion for the art of craft distilling.
We were able to taste each of the respective products from these distilleries and they were quite different from the longer-aged Scotch whiskies which dominated this event. Some of these whiskeys were either not aged at all (Death's Door Spirits produces a "white whiskey" which was completely clear because it was not aged in barrels) or aged for only a few years, compared with the more typical six to twelve or more years for Scotch whisky.
Overall impressions
This was quite an extravagant event, with so many distilleries and whiskies represented it was impossible to even see everything. However, it was a great introduction to the world of whisky (and whiskey - the spelling difference is significant and beyond the scope of this article, but worth looking into if you're interested)2, and everyone from whisky novices to whisky experts were welcomed. Everyone seemed happy to answer any questions about their products, no matter how basic. If a show like this is near to you, I'd recommend trying it out for an overall exposure to the culture and possibilities of whisky. An event this large also brings some of the luminaries of the industry and other experts whose thoughts and opinions can be inspiring and informational.
If you're looking for a more studied inquiry about particular distilleries or styles of whisky, I would look for local, smaller tastings, perhaps through specialty liquor stores or other local organized groups of enthusiasts. You may also want to visit the various web sites of distilleries you are interested in and sign up for some informational emails. I learned of this event because I am on Laphroaig's mailing list. There is certainly a culture and deep tradition associated with whisky no matter how you spell it, and learning its history is as fascinating as experiencing the spirit itself.
Links:
(1) http://www.whiskiesoftheworld.com/wow/
(2) I like this explanation: http://www.thekitchn.com/thekitchn/whiskey-vs-whisky-whats-the-difference-straight-up-cocktails-and-spirits-100476
List of web sites for distilleries mentioned:
http://www.ardbeg.com/
http://www.glenmorangie.com/
http://caledoniawhisky.com/ (for Edradour Distillery)
http://laphroaig.com/
http://www.ardmorewhisky.com/
http://www.anchorbrewing.com/about_us/anchordistilling.htm
http://tuthilltown.com/
http://www.templetonrye.com/
http://www.deathsdoorspirits.com/